集美家居欧洲公司

集美集团创立于1984年,总部位于北京,是中国三大著名家居卖场之一。集美集团立志于多元化发展,其业务涉及家居用品,装饰建材,各类饰品等,此外,还拥有自己的工程建筑队和广告公司。集团现旗下约3500员工,其队伍仍在不断壮大。
集美集团更立志于开发欧洲和美国市场。随着2011年巴黎集美国际分公司的成立,集美集团正式成为中国首家走向国际的家居公司。基于完善的采购网络,集美国际旨在以批发形式销售其物美价廉的产品给至欧洲市场,并发展其长期合作伙伴。
集美国际商贸公司落于Aulnay-sous-Bois市,交通便利,为有意来展厅了解集美产品和其各类服务的专业买家节省时间和金钱的成本。
---
Jimei Europe
JIMEI is a Beijing based Chinese group (www.jimeigroup.com). It was launched back in 1984 and is now identified as one of the top 3 furniture distributors in China. Since then, JIMEI has diversified its activities and offers a wide range of home and professional products, decoration material, accessories and flooring materials, but also settled in the fields of construction and advertising. JIMEI Group employs around 3,500 people and is slowly extending its presence all over the Chinese territory.
Recently a strategy of internationalization in Europe and the United States was implemented by the group. JIMEI is the first Chinese distributor in its field to go international. This strategy started with the creation of JIMEI International (www.jimeigroup.fr) in France at the beginning of year 2010. JIMEI International's aim is to provide the French and European markets with a large range of products (furniture for professional and private use, kitchen & bathroom, flooring) of high quality to a competitive price, thanks to its strong network of Chinese and international suppliers (sourcing on daily basis).
In Europe, JIMEI offers its products and services only to businesses in order to introduce the European market with a collaborative aim and build durable partnerships together with well established large and medium European distributors, hotel chains and pool of restaurants.
JIMEI's showroom and offices are located in Aulnay-Sous-Bois, a well located logistic platform (15 km away from Paris and 10 km away from the hub of Roissy Charles de Gaulle), which facilitates time and cost-saving trips for professional purchasers wishing to become familiar with JIMEI's products and know-how.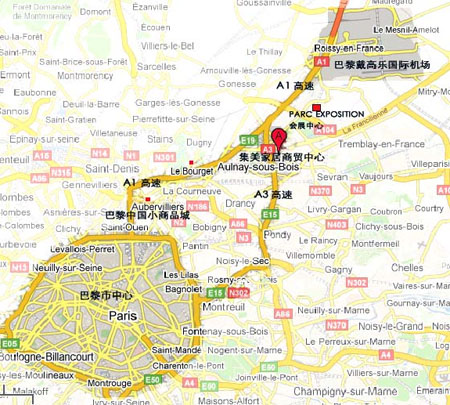 联系方式:
总经理 赵婷婷 小姐
手机:0033 (0)6 67 89 68 88
办公室电话:0033 (0)1 48 79 88 08
网站: www.tradejm.com
E-mail : jimei.europe@gmail.com
地址:
4, rue Nicolas Robert
93600 Aulnay-sous-Bois
France